Post Anchor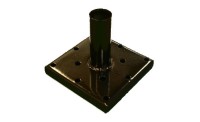 Titan post anchors utilize a truly unique hollow tube concept to give you a stronger post to base connection than using only screws or lag bolts.
The inside cutting edge of the tube drives into the core of the post. Wood is funneled and forced inside the tube as it is driven into the core of the post. The result is a friction fit of post and tube anchor that act as one.
Sizes range from 100x100mm to 150x150mm. All anchors are hot dip galvanized and powder coated and come with all required fasteners.
---
Showing 1 to 4 of 4 (1 Pages)